This is a previous post, from June 1, 2011, it will explain the rules of Pay It Forward.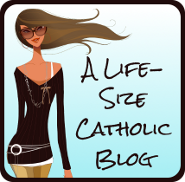 My Guest Today
I'm excited and thankful that Patricia, our wonderful hostess here at
It's About Time Mamaw
, has given me this opportunity to let you know what's going on over at
A Life-Sized Catholic Blog
. It's very kind of her to take notice of this newbie blogger—overwhelmed by blog whatchamacallits, and blogger thingamabobs, and doo-hickeys—hoping someday to know as much as she knows. There's a whole new language to learn, and many new skills needed to participate fully in blogging. I mean really … troll, vlog, meme, and I used to think a button was something on my shirt. Let's not even begin the discussion about what I don't know about html—you realize it's a four-letter word, don't you?
What I do know is, in my short eight months of blogging … I have mastered the Google search engine, read a lot of interesting articles, questioned, thought, and become a more enriched person, because of you itypists out there—plus, I've acquired a few new spectacular recipes to boot!


On top of all that, I've made wonderful friendships and connections, and they mean a lot to me. Time and time again, I've wanted the blogging world to meet someone I've met, or read something I've read. That's what this blog meme is all about, "Pay It Forward." Instead of keeping all these great finds and great friends to myself, or you keeping your great finds and great friends to yourself, we spread the LUV. Sharing the Good News, great tips, wonderful prayers, fabulous photos, scrumptious recipes, hilarious humor, unbelievable books, stories of goodwill, or whatever good knocks your socks off … with one another. I'd love to have you join in the fun, "Pay It Forward," to those you admire and appreciate, and I hope we'll get to know each other along the way.
The rules are: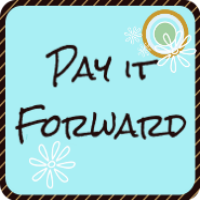 IT' ABOUT TIME MAMAW'S PAY IT FORWARD GOES TO MUSING MOM 6
Okay here it goes I choose
Musings of a Modern Mom
as a great inspiration to me and I am sure to many other people that read her blog. I enjoy her section on
Just Thinking Out Loud.
God Bless You and Your Blog!
Musing Mom 6