Let's welcome

Louis A Tamasi at

The Vintage Recipe he will be sharing one of
his
recipes with us. Enjoy!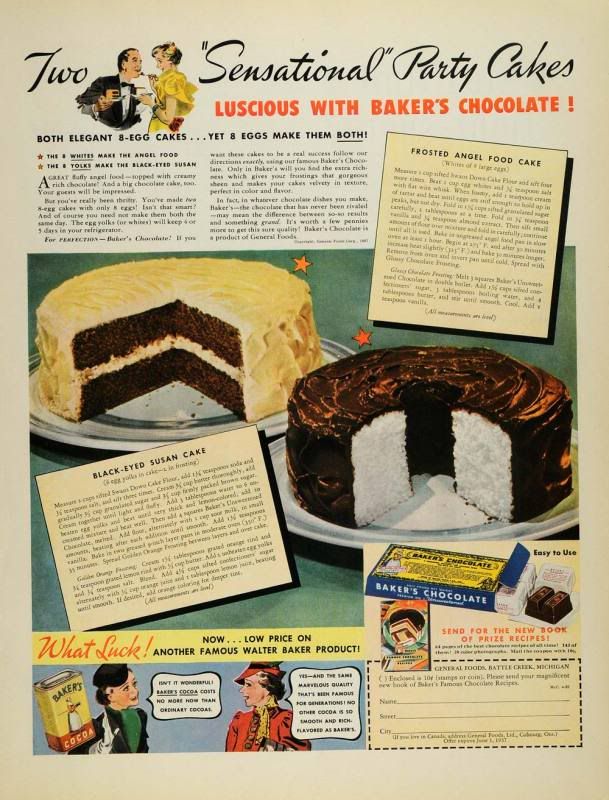 1937 Baker's Cocoa
I'm going to tell you right from the start my expertise in cooking is main dishes and sauces along with baking breads. This dessert thing is new for me. The Butterscotch cake came out ok and on the heels of that I tracked down this 1937 ad for Baker's Cocoa. It gives you 2 cake recipes both involving 8 eggs. The ingenious thing was one cake is for 8 egg whites (the Angel Food Cake) and a Black Eyed Susan cake which uses the egg yolks. Right now, it's just dad and me living in the house so we really don't need 1 cake let alone 2 hanging around but I had a use in mind for the yolks so no big deal.
So here's the recipe:
Angel Food Cake
8 Egg Whites (1 Cup)
1 C Cake Flour
1/4 tsp Salt
1 tsp Cream of Tartar
1 1/4C Sifted Sugar
3/4 tsp Vanilla Extract
1/4 tsp Almond Extract
Sift the flour 4 times and set aside. Combine egg whites and salt and beat until foamy, add cream of tartar. Beat until stiff peaks. Fold in sugar a little bit at a time. Add vanilla and almond then sift flour over a little at a time folding it in. Pour batter into ungreased angel food cake pan and bake at 275° for 30 mins, then increase temp to 325° and bake 20 mins more until knife inserted is clean. Flip pan over and let cool completely before removing cake.
Melt 3 squares baker's chocolate over double boiler. Add 1 1/2C powdered sugar and mix until combined. Add 3T BOILING water and 4T butter and stir until combined. remove from heat and cool then add 1t vanilla extract.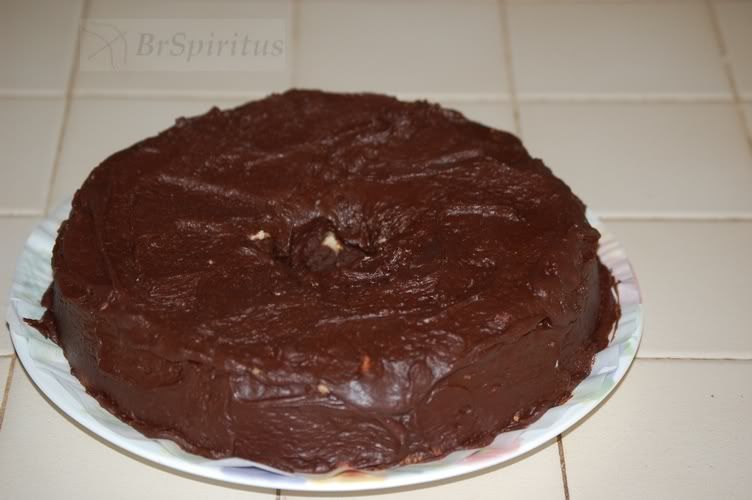 You can see the final product above, but wait it's not as tall as the ad. Yep, I muffed it. The recipe, as most antiquated recipes are, is rather vague on the stiff peaks part, instead calling for just peaks. I took it to soft peaks and was rewarded with a shorter cake. The frosting was a bit of pain as well because modern powdered sugar contains cornstarch to keep it from clumping. This also ups the water requirement so if your frosting comes out thick or just not right add some more boiling water while heating it over the double boiler and it will smooth out. You just need it smooth and spreadable. You can also go the route of making your own powdered icing sugar by running regular white sugar in food processor until its a powder. Make sure you sift it before use.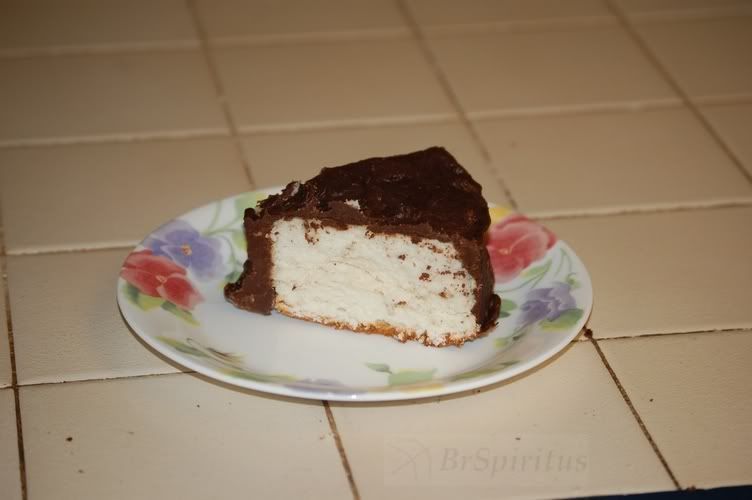 Despite the few road bumps I liked the outcome. The cake itself is delicate and has a slight almond taste, while the icing is a delicious dark chocolate flavor. These cakes from vintage recipes are best described as rustic. If you're searching for perfection it's just not going to happen, at least not until you get more experience.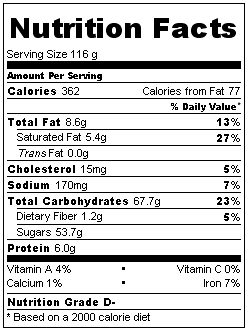 Yield, 8 Servings
Louis, I want to thank you for sharing your Angel Food Cake recipe with us today. I looks delicious I am ready for a slice! Hope you will come back an share another of your creations.
Patricia aka Mamaw