I am wanting to find some crafty people that love to show off there crafts.How would you like to be a guest and work your wonders through your favorite tutorial?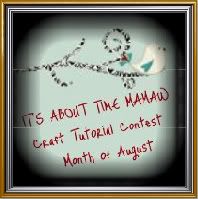 There has to be some talented crafters out there that are not too shy to give my viewers a craft or sewing tutorial.
Then I will have the viewers vote at the end of the month for the best tutorial of the month.
We can't have a contest without Sponsors. So who would like to donate something to give to the crafter that wins the contest.
If the contest goes well it will continue each month.
Also is there anyone who would be willing to help advertise the contest. I made a badge/button to advertise the contest that way whoever wants to grab it and display it on their blog they can.